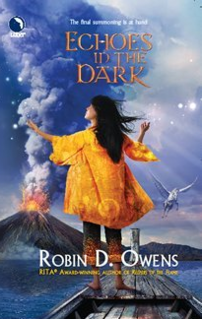 Name A Character/Decide His or Her Fate in a Robin D. Owens Book!

1 Day Only in Brenda Novak's auction to benefit Diabetes May 22, 9:30 pm to May 23 8:39 pm.
Item 1038947


The last battle is upon us...

ECHOES IN THE DARK (Luna Books, January 2009) is the final book of Robin D. Owens' award-winning 'Summoning' series that Huntress Reviews said 'is among the most joyful series of novels in any genre. It deserves to be considered a classic.'

Now YOU can choose the name of a character (with a minor speaking part) in Echoes In The Dark.

More, YOU can determine whether this character lives through the final battle with the evil alien Dark, or dies a heroic death.

Note: This is an equal opportunity battle, the character can be male or female. Even more input will be considered from you if you're familiar with the Summoning series. Character name and fate must be chosen as soon as possible as the book is under deadline.

May you all enjoy the Power of your imagination.

Thank you,

Robin

Note: If you use a real person's name you will have to sign a release.